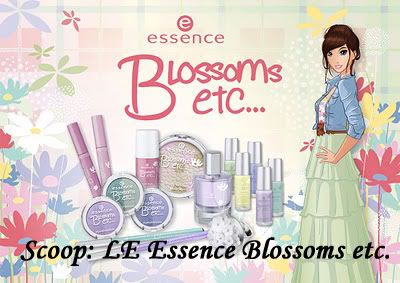 De lente zit eraan te komen en bij een nieuw seizoen hoort een nieuwe limited edition. Essence pakt flink uit met de nieuwe Limited Edition Collection Blossoms etc… De kernwoorden van deze collectie zijn: Lente, pastel, bloemen en cuteness. De afbeeldingen van de nieuwe producten maken mij in ieder geval hebberig en de lage prijzen zijn alleen maar mooi meegenomen. Benieuwd naar de lentelijn van Essence, die vanaf begin april verkrijgbaar zal zijn? In dit artikel laat ik jullie de producten zien en deel ik de vreugde.
The time has come for blossoms to stretch their buds and face the sun, birds are chirping and nature is awakening from a winter slumber. It's official, spring is here and thanks to Essence, you can wear gorgeous colors of the season with the new essence trend edition: Blossoms Etc…!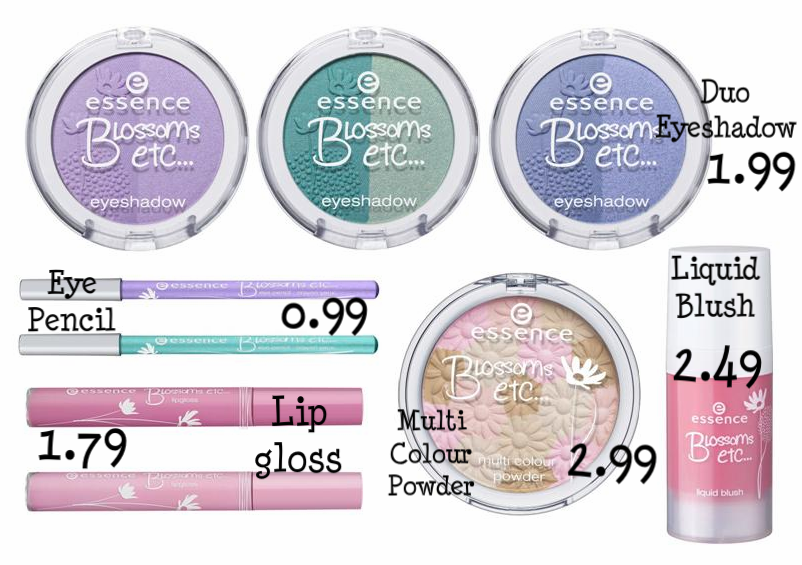 Duo Eyeshadow

Fresh and shiny, like young blossoms in the morning dew, the new duo eyeshadows are sure to brighten up tired winter eyes! The perfectly matched duos, each consisting of one dark, subtle pearly shade and one light, holographic shade, give you a breathtaking spring look. For a fascinating effect that changes with the light, apply one on top of the other! Available in 01 A Hint of Mint, 02 Bloom-a-Loom and 03 Forget Me Not.
Eye Pencil

Everyone loves spring, especially when essence offers new eye pencils in beautiful colors to match the season! Two pearly-pastel shades in lilac and mint green give you bright eyes and an excellent start to spring. Available in 01 Bloom-a-Loom and 02 I Like. Prijs: € 0,99
Lipgloss

With kissable lips in the warm colors of spring, who can resist you?! These two lipglosses offer fantastic coverage and capture the true spirit of spring, while awakening your lips with a glossy finish and ultimate shine. Available in 01 Flowerkissed and 02 Naive. Prijs: € 1,79
Multi Colour Powder

As soon as you open this gorgeous powder compact, the beautiful flower embossments will put you in the mood for spring. The silky texture gives your face a gentle shimmer and a natural finish. With a perfectly flawless complexion, nothing will stand in the way of true flower power! Available in 01 Flower Power. Prijs: € 2,99
Liquid Blush

Get rosy cheeks just like you've been for a walk across blossoming meadows! With its silky consistency, application with the liquid blush is particularly smooth and creates a beautiful fresh complexion. The easy pump-dispenser gets the perfect dosage making application to cheeks with your fingertips easy. Available in 01 Flowerkissed. Prijs: € 2,49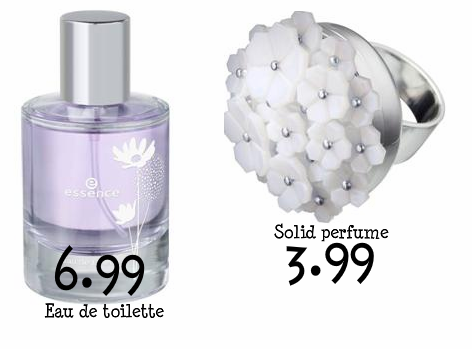 Eau de Toilette

Spring is in the air with the new blossoms etc… eau de toilette and it's the perfect touch to any spring style! The fresh floral scent lets you start every day with a smile. Prijs: € 6,99
Solid perfume

An accessory, a favorite springtime scent and an eye-catcher all at once! The essence blossoms etc… solid perfume ring hides a secret cream perfume inside. Simply slip it on your finger and apply the cream perfume on your wrists and your neck when needed. The spring barometer is sure to point to sunshine all day long! Prijs: € 3,99
Ik ga in ieder geval voor de solid perfume - that Marc Jacobs dupe is going to be mine, de multi colour powder en de liquid blush - met de hoop dat het een Benefit dupe is. Wat vinden jullie van de lente collectie? Puur genieten of een no go?
Het is nog niet zeker of de producten ook in Nederland verkrijgbaar zullen zijn begin april. Blossoms Etc... zal in ieder geval in de schappen liggen in Duitsland.